We've asked one of our National Youth Ambassadors and Sheridan Journalism student, Muluba Habanyama, to introduce some of CANFAR's most important contributors. In her first issue of Q5, Muluba sits down with Dr. David Brennan who has received an Innovation Research grant from CANFAR.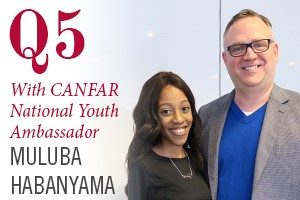 1. Hello Dr. David Brennan. You have done some fascinating and groundbreaking HIV research. How did you become involved in this field?
My background is HIV-focused social work. The work that was being done needed proper analysis and evaluation. To be able to do this, I went back to school for my PhD. My research now focuses primarily on gay guys and HIV.
2. In your current CANFAR research study you are focusing on young gay and bisexual men. Why is this demographic important?
In Canada, gay guys in their 20s and early 30s are at greater risk for getting HIV. Gay guys now count for more than half of new HIV infections in Canada, and one in five HIV positive gay men aren't aware of their status yet. Fighting the spread of HIV requires an understanding of this group and targeted effective prevention strategies.
3. Your current research is looking at how young gay guys use apps and the web to connect with each other and also to learn more about staying healthy. Tell me more about your work.
Today more than half of gay guys in Canada go online and use apps to connect with other guys and get health info. To better understand these interactions, we are engaging 600 young gay men to complete a survey and a tracking diary of their health, lifestyle and online interactions.
4. With your research, what information are you hoping to collect, and what impact will it have?
The study hopes to learn more about how guys are connecting, and how the info they receive online is impacting their lifestyles and knowledge. It is key information that awareness campaigns, online social workers can use to make their work more effective.
5. You are in the second year of CANFAR funding for this project. As you begin to collect the data and start to analyze it, how can people track with your progress and learn more about your work?
CANFAR will be sharing midterm and final reports on their website as our data becomes available. You can also follow us directly at CruiseLab.ca or @CruiseLab. We are so thankful to CANFAR, all its donors and supporters for making our work possible.