$1 Million Donation from The Slaight Family Foundation Enables CANFAR to Expand its HIV Youth Awareness Activities To Reach Canada's Most Vulnerable
Mr. Andrew Pringle, Chair of the Board of Directors of the Canadian Foundation for AIDS Research (CANFAR) is pleased to announce a $1 million donation by the Slaight Family Foundation on February 10, 2016.
"While we have several supporters who have contributed $1 million or more – over time, this is the largest single gift in CANFAR's history. This donation will greatly expand our exceptional youth HIV awareness program," says Pringle.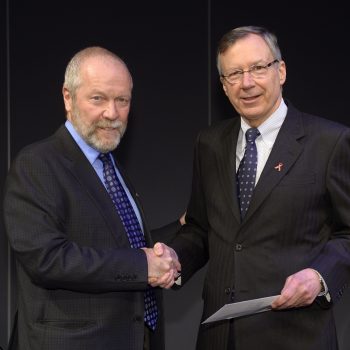 Over the next four years, the donation will be used to expand CANFAR's in-school programs, and increase awareness and outreach efforts to reach the 10 percent of Canada's most vulnerable youth who are not in the education system. The overall goal is to provide Canada's youth with the appropriate tools and support to develop healthy behaviours that will lead to decreased rates of HIV. The role out of the program will be as follows:
Year One
CANFAR will expand its outreach in schools and develop relationships with community-based organizations. The overall goal will be to develop long-standing, meaningful partnerships that are responsive to the unique needs of each community and the vulnerable population they serve.
Years Two and Three
CANFAR will continue to build on its community partnership across Canada, refining the necessary tools and resources and ensuring input from those at the front lines. Youth will play a fundamental role in shaping these resources. The program will be developed within a consultative framework allowing youth to be thought and implementation leaders.
Year Four
Through community partners and technology, educational resources will be readily available across Canada in print and digital format. CANFAR will continue to work with community partners to ensure the youth awareness program is sustained and responsive for the future.
"Each year, CANFAR reaches more than two million students nation-wide through schools, providing the information and tools necessary to help students make healthy decisions that prevent HIV," says Christopher Bunting, President and CEO of CANFAR. "Through the generosity of the Slaight Family Foundation, CANFAR is confident that this program will be a vehicle for change – a way to increase awareness of HIV in Canada, and ultimately decrease HIV rates across the country."
To see the One and All awareness and prevention program that CANFAR has developed, visit CANFAR.com/OneandAll.