Dr. Mark Wainberg, OC, QC, FRSC, was an international rock star in HIV and AIDS research–a global leader in his field. For more than 25 years, Mark was a tireless supporter of CANFAR , where he served as Co-Chair of our Scientific Advisory Committee.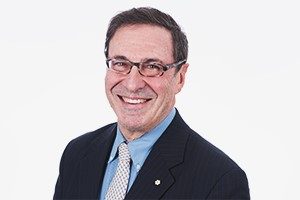 Mark was charismatic, enthusiastic, focused, funny, passionate, and so very committed to his life's work.  He was one of those people who wore his love of life on his sleeve. After decades of dedicating himself to this difficult and challenging cause, he had the same excitement and wonder as he did on his first day on the job.
Mark Wainberg was never constrained by his research work in the lab at Montreal's Lady Davis Institute, his responsibilities as Director of the McGill University AIDS Centre, or as a Professor of Medicine at McGill; in fact, these roles emboldened him to become an increasingly outspoken and effective international advocate for this cause.  He spoke his mind about funding for medical research, about access to life-saving treatments in every part of the world, and he challenged political leaders in Africa and elsewhere who did not give AIDS the attention it needed.
It was Mark who, as President of the International AIDS Society, famously took the world AIDS conference in the year 2000 to Durban, South Africa, for the first time.  Many saw that conference as the turning point in getting HIV meds to those in Africa who were in desperate need.
The international HIV and AIDS community has lost one of its great leaders and advocates, Canada has lost one of its most prominent researchers and we at CANFAR have lost a long-time supporter and very good friend.  Just two days before his tragic death in Florida, it was arranged that Mark would join the three of us for dinner in Toronto this June, a dinner that had become an annual ritual.
On behalf of the entire CANFAR community, we will sorely miss Mark Wainberg.
Authored by Andrew Pringle CM, CANFAR Chair; Dr. Stanley Read, FRCPC, FAAP, Chair of the CANFAR Scientific Advisory Committee; and Christopher Bunting, CANFAR Deputy Chair