Andrew Pringle, CM, Chair of the CANFAR Board of Directors, is pleased to announce the following leadership changes, effective Monday, April 17, 2017.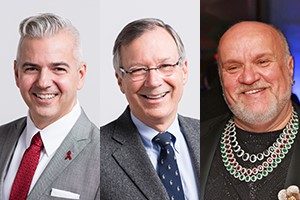 Kyle Winters
Kyle Winters, Vice President of CANFAR, has been promoted to President and Chief Operating Officer. Kyle joined CANFAR in 2015, and in his new position, he will be responsible for all aspects of the Foundation's operations across Canada, with a particular focus on fundraising and development. Prior to joining CANFAR, Kyle was a senior development executive at the Heart and Stroke Foundation of Canada and before that, the University of Toronto.
Christopher Bunting
Christopher Bunting, President of CANFAR since 2010, has been elected to the Foundation's Board of Directors and will serve as Deputy Chair of the Board. As Deputy Chair, Christopher will provide leadership in special projects, including the continuing development of CANFAR's partnerships with other organizations, in addition to focusing on his outside consulting interests.
Salah Bachir
Salah Bachir, CM, President of Cineplex Media and currently Deputy Chair of the CANFAR Board of Directors, has been elected Chair of the Foundation's Advisory Council. Based on a recent review of the Council's mandate, Salah will focus on the development of the Advisory Council as an important resource to CANFAR and HIV and AIDS research. He replaces Richard Ellis, who will remain as a member of Advisory Council. Richard recently took on a global role at McDonald's Corporation as Vice-President, Corporate Relations for International Lead and High Growth Markets.
"On behalf of the Board, I want to offer congratulations and thanks to these individuals, all of whom contribute so much to CANFAR and the HIV and AIDS cause," stated Pringle. "On a personal level, I am very much looking forward to working with them in their new capacities."