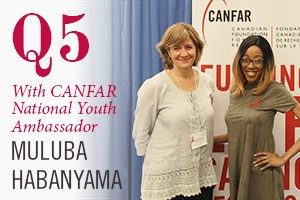 In this edition of Q5, CANFAR Youth Ambassador and 30 Under Thirty member Muluba Habanyama chats with Dr. Marie-Josée Brouillette, CANFAR researcher.
Dr. Brouilette is a CANFAR funded researcher working at McGill University on a study about the effects of aging in people living with HIV. Muluba caught up with Dr. Brouillette in snowy Winnipeg, Manitoba, while both were attending the Canadian Association for HIV Research (CAHR) conference, the premiere conference for HIV research.
1. I wanted to talk to you about your research, which is perfect considering we are here at this conference! Can you tell us about your latest project?
We are very grateful to CANFAR for obtaining this funding! The CANFAR funded study is a subset of a larger study called Positive Brain Health Now. It is a cohort study, meaning we are following 830 individuals who are living with HIV across Canada, over two and a half years to document the changes in with what they might experience. This project emerged from concerns expressed by the HIV community about the impact of aging.
In addition to documenting these changes, we wanted to test an intervention that could improve the situation. The funding received from CANFAR is for a program called Goal Management Training (GMT), a group based intervention. It has been well validated for traumatic brain injury, but the same kind of difficulties are also found in other populations – like people living with multiple sclerosis, and the aging population.
2. Oh that's so exciting!  So HIV has an impact on cognition in aging populations – could you explain more?
As a psychiatrist I was seeing people with cognitive difficulties: their mind isn't as sharp, they are more forgetful, and have difficulty solving problems. These are changes that we expect with aging, only people with HIV were starting to experience those difficulties earlier. Sometimes it was interfering with work because if you develop these conditions while you're retired, you can adapt more easily, but if you're still working it may have a negative impact on your everyday life.
3. What are the implications of this research for people living with HIV?
If people are experiencing difficulties, can we fix the difficulties and try to reverse them? So far the extent to which we can do that is limited, so instead, how can we help people live with these difficulties and minimize the negative impact? The GMT program is teaching people strategies and tricks to live with their cognitive difficulties.  For example: mindfulness, slowing down, doing one thing at a time, being very aware of what you're doing. Stop. Breathe. Think. The program is a combination of group sessions, where participants are encouraged to share their experience, and individualized practice with a workbook at home.
People will come in and interact and see other people who share the same difficulties so it breaks the isolation. If we find this approach to be helpful we could develop interventions that are use similar principles that could be run in the community.

4. That's exactly what I need to do – slow down!  I think we all need mindfulness. Speaking of community, how can people get involved and contribute to the future lives of people who have HIV?
The science in HIV has been amazing, how quickly we went from a condition that has unknown cause to better treatment – but we haven't completely solved the problem yet. I think with more money the science could do a lot more in terms of helping persons with HIV both from the perspective of the virus itself and also minimizing the impact so that people could have increased quality of life.
5. Absolutely. The donations for this research project came from Cycle4CANFAR – where Chris Davidge, Yanir Levy, Neil Schmitke, and Tommy Spriet cycled across this nation raising money for research. What does it mean that Cycle4CANFAR funded your project?
Thank you bikers! People outside of the research field may not know but at this point getting money for research projects is increasingly difficult. Because Positive Brain Health Now was already funded, to add a project that would have significant impact on people's lives is not as expensive as it would be starting from scratch. So we've been able to capitalize on the fact that we had funding, and we can maximize every dollar.