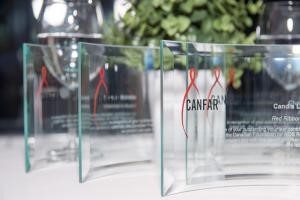 Earlier this month, CANFAR recognized the work and commitment of our volunteers. On behalf of CANFAR, Chair Andrew Pringle takes pride in recognizing our outstanding volunteers with these distinguished awards.
The Red Ribbon Award
Recognizing a student, school or university that has demonstrated outstanding leadership and dedication to raising HIV and AIDS awareness in their community.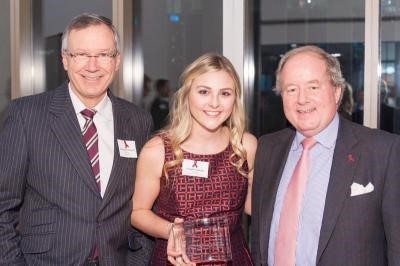 CANDIS LEPAGE
Candis is recognized for creating and driving Acadia University's CANFAR Campus Club and growing it to over 50 members. She has worked to educate, inform, and engage young Canadians in the discussion of HIV and AIDS.
The Award for Innovation
Recognizing a corporation, organization, or individual that has developed a project that is imaginative and breaks new ground by developing an innovative approach to either fundraising or raising awareness of HIV and AIDS.
The Canadian HIV Trials Network (CTN)
With partners Jacqui Sas and Kevin Pendergraft, the CTN has worked in partnership with CANFAR over the past several years to develop and participate in programs that make a difference. These programs include the post-doctoral fellowship awards as well as representation at national and international conferences.
The President's Nod Award
This award is CANFAR's way of recognizing our outstanding volunteers whose contributions to the Foundation have been nothing short of exceptional.
CHANTEL PENROSE
Chantel has gone above and beyond in supporting the CANFAR office. She has assisted with both the planning and execution of many of CANFAR's recent events and has always been available to assist staff in the office – she does everything with a smile!
JONATHAN BRETT
For a number of years, Jonathan has worked to support CANFAR and its mission through his talents and network. He has raised funds for CANFAR through his custom jewelry creations as well as investing his time and energy in CANFAR special events and occasions. CANFAR has also been fortunate to have his involvement and leadership on CANFAR's young Professional Council.
The President's Award
Recognizes an individual or organization that has made an outstanding contribution to the operations of CANFAR through the provision of services or who has excelled beyond the normal responsibilities of the volunteers position and devoted an inordinate amount of time, effort and resources to CANFAR.
ALEX FILIATRAULT
Alex has facilitated the important and much appreciated support of his hotels, specifically, the Shangri-La by hosting events and meetings on behalf of the Foundation. He participates in committees and leverages his connections in support of CANFAR. He is a constant source of good ideas and is a leader in the community.