Two dozen chefs. More than a dozen florists. Twenty-three venues transformed. And nearly 800 of Toronto's movers and shakers gathering for Bloor Street Entertains, one incredible evening in support of HIV and AIDS research.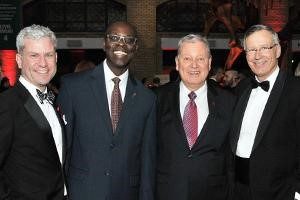 All of that and a world of choices were present on November 30th for the 20th anniversary of  the Canadian Foundation for AIDS Research (CANFAR) annual gala fundraising event.
Guests at this year's Bloor Street Entertains were greeted with not only the finest food presented in the most luxurious settings the city has to offer, but also the opportunity to explore the world. Trips to India, Mexico, New York City, and Beverly Hills were among the many choices available to those who attended. And Post-BSE, the after-party at the Royal Ontario Museum, featured a world-renowned international DJ, Hector Fonseca.
In all, the global theme helped raise more than three-quarters of a million dollars for HIV and AIDS research.
Bloor Street Entertains was borne out of a crisis devastating our community. At the peak of the AIDS epidemic in the late-1980s, thousands of lives had already been claimed. There was no treatment, no prevention, no end in sight.
A group of entrepreneurs from Toronto decided to take it upon themselves to contribute to a cause that was directly affecting themselves and those close around them. Dinah Koo, Van Beltrame, and Robert Mang enlisted the support of their service industry friends to pool their talents together and throw elaborate dinner parties to raise money to support HIV and AIDS research. In 1988 they hosted Food for Thought, their first ever fundraising gala, raising $150,000.
From its inception, the gala dinner served as a platform from which to spread a message of hope and awareness, all the while raising much-needed money for life-saving research.
In 1997, the flagship fundraising gala was reimagined as Bloor Street Entertains. Instead of using homes of prominent Torontonians, shops and boutiques in the Bloor-Yorkville area hosted intimate dinners. We haven't looked back since. Twenty years later, the event keeps growing.
Thank you to all of our sponsors, chefs, florists, venue hosts, and guests for being a part of history.