In Canada, nearly half of new HIV infections occur in gay, bisexual men, and other men who have sex with men (MSM). While HIV continues to disproportionately affect this population, research – and funding for research – has not kept pace.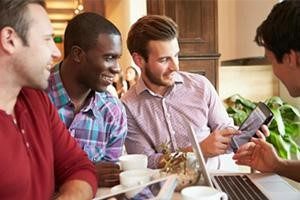 In order to better understand HIV prevalence and other sexually transmitted infections (STIs) – and how to prevent them — in these communities, CANFAR has partnered with the Canadian Institutes for Health Research (CIHR) and the Ontario HIV Treatment Network (OHTN) to fund a group of Canadian researchers and community organizations to launch Engage – a multisite study that includes new HIV prevention interventions for MSM.
Over the next five years, Engage will lead research studies to help us understand how new knowledge and options for testing, treatment, and prevention are changing the landscape of HIV with the intent to use the findings to inform future HIV intervention strategies.
The disproportionately high rate of HIV infection in gay, bisexual men, and other men who have sex with men is particularly evident in Canada's largest cities: Montreal, Toronto, and Vancouver.
As each of these cities is in a different province, Canada's provincially based health care system has led to the implementation of different policies to address the HIV epidemic and help prevent new infections in each of these cities. This disparity is compounded by a relative dearth of research allowing for direct comparisons between the three cities.
Understanding how HIV is transmitted – Many recent advances in HIV research are changing the way we understand HIV transmission, prevention, and treatment – especially among MSM.
Early HIV treatment has been shown to increase health outcomes and significantly lower chances of HIV transmission, and new options to prevent HIV transmission such as PEP (post-exposure prophylaxis) and PrEP (pre-exposure prophylaxis) are changing the way we think about safer sex. HIV testing is becoming easier, faster and able to detect HIV infection sooner. As a result of these advances, a new generation of young gay, bisexual, and other men who have sex with men are growing up with no experience or memory of the AIDS crisis. And yet many experience social, cultural, and structural issues that continue to create conditions where they may more at risk for HIV transmission than others.
Engage research will also focus on health issues beyond HIV, including sexual health and STIs, substance use and mental health. These are issues that directly or indirectly affect all in gay, bisexual men, and other men who have sex with men. Using social networks, Engage recruits its participants based on a social network model. The only way to participate in Engage is to be invited by someone who has already participated in the study. New participants are always the friends and acquaintances of former participants.
Here's how it works: initial participants are selected after consultation with the Engage community committee members in each site. Each of these participants is encouraged to invite someone from their social network to participate by giving them an Engage invitation. Participants receive 50 dollars for taking part in our study, and an additional 15 dollars for every guy they refer who also participates in the study. This "snowball" recruitment makes it possible to reach various groups and individuals, a form respondent driven sampling that provides statistically significant data which is invaluable for sexual health research.
CANFAR's support – Through its Legacy Fund – an initiative bringing together Canadians to focus on a common goal of funding research for HIV prevention among MSM – CANFAR is investing $500,000 to support this critical research, partnering with the Institute of Gender and Health, CIHR, and OHTN.
For more information about Engage, or to find out how to participate in the study, visit www.engage-men.ca.
Story by Kyle Winters, Vice-President & COO, CANFAR