If you are going to improve on something that everyone loves, you need to take a few risks. That was the thinking behind the changes that went into this year's Bloor Street Entertains After Party.
Bloor Street Entertains (BSE) is an annual event in support of CANFAR's mission. It brings together some of the country's most generous philanthropists.
"Our patrons have grown to expect a level of sophistication at Bloor Street Entertains, and this year we wanted to create a sense of seamlessness as they moved from their dining experience to the After Party," said Kyle Winters, CANFAR President and Chief Operating Officer.
"We worked closely with Nada Ristich from BMO Financial Group, the new Signature Partner of BSE, as well as, our Co-Chairs, Mrs. Sylvia Mantella and Ms. Coco Rocha, to develop a concept for the After Party that would better complement the experience enjoyed at 15 luxury dinner venues. Through that discussion, a concept took shape with luxury and intimacy being the key attributes. With that in mind, we realized that we needed to consider a venue change if we were going to succeed," said Winters.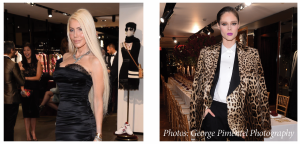 After a series of discussions with Konrad Gstrein, the General Manager of the Four Seasons Hotel, we made the bold decision to move the Bloor Street Entertains After Party to the iconic Four Seasons Hotel.
Memories of Bloor Street Entertains 2017
The feedback at BSE, and following the event, has been consistent and glowing. More than 650 guests, dressed in their interpretations of "black tie inspired," strolled through Yorkville and settled in for dinners at some of Toronto's most luxurious boutiques (the full list can be found here)

Around 9:30p.m. guests made their way to the Four Seasons Hotel for the big reveal. Under the direction of ESP Inc. President Chad Brincheski, the ballroom had been transformed into an oasis of gold frosted palms, shimmering drapery and generous seating areas of crushed red velvet. In fact the furnishings were created exclusively for CANFAR by Contemporary Furniture Rentals Inc.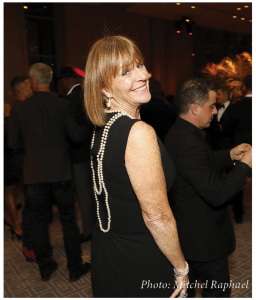 Based on the feedback of our guests, the Bloor Street Entertains After Party was as luxurious and intimate as an art deco sitting room – and took Bloor Street Entertains to a new level of distinction. We thank everyone who supported Bloor Street Entertains this year, as well as those who have given so generously of their time and leadership to make BSE the tradition that it has become.
Authored by Debbie Osske, CANFAR Director of Events, Stewardship, and Volunteer Relations.
Posted on Tuesday, December 19, 2017.