On February 4, 2015 CANFAR celebrated the outstanding contribution to Canadian HIV and AIDS research made by Brian Porter, CEO of Scotiabank and his wife, Megan. As co-chairs of Bloor Street Entertains 2014 Brian and Megan exceeded all expectations with their unselfish giving. As a result, Bloor Street Entertains 2014 broke all records.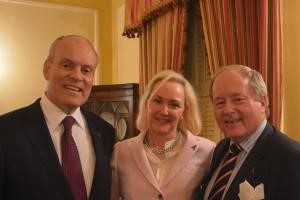 Mrs. Porter's focus was a year-long commitment to CANFAR's signature event, giving both her time and her talents. She provided inspiration, and showed her dedication and tenacity to ensuring an outstanding evening remembered by everyone in attendance.
Mr. Porter and his team at Scotiabank provided leadership and leverage to ensure Bloor Street Entertains (BSE) reached new markets and forged new partnerships. This commitment allowed BSE to achieve record returns.
CANFAR is delighted to announce that the 18th annual BSE raised just over $750,000 in support of HIV and AIDS research and education programs, making it the most successful in the history of BSE.
Because of their generous support, for the next two years, CANFAR will award The Brian and Megan Porter Scotiabank Research Grant to a deserving Canadian researcher.
To our volunteers, partners, sponsors, auction donors and attendees our sincere thanks for coming together to create an unforgettable evening; our sincere thanks for your commitment to an AIDS-free world.
Don't forget to mark your calendars! Bloor Street Entertains 2015 will take place on Wednesday  November 25, 2015.