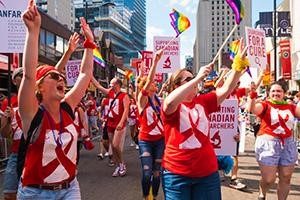 The 36th Annual Toronto Pride Parade made the morning headlines – but for some CANFAR marchers, participating in this year's parade featured as a life highlight.
For many, it was their first time marching in what was a parade to remember. "I'll remember this moment forever," sums up Sophie Hamr, secretary of CANFAR's 30 Under Thirty.
Almost 50 of CANFAR's staff, volunteers, and supporters marched in the parade. Our team was decked out in CANFAR's newly designed t-shirts, and – to show our Pride – we wore boas and beads, and waved rainbow flags. We marched and danced holding signs sharing sentiments like "Supporting Canadian Researchers", "Educating Youth about HIV" and "Searching for a Cure".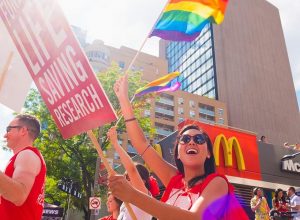 Each year, we march with our brothers and sisters in the HIV community. This year, we had the pleasure of marching between Black CAP and the Toronto People With AIDS Foundation. Together, as we snaked our way down Yonge, it was remarkable to see the reception to our presence. We were greeted with applause and cheers, and many tears. As CANFAR staff member Brian Tsang points out, "The energy and support from the crowd was amazing – it was moving to see both how diverse the community was and how enthusiastic they were about CANFAR and the work that we do."
This year's parade was especially poignant. CANFAR board member Salah Bachir was honoured as one of the parade's Grand Marshalls (a title he shared with revolutionary artist Vivek Shraya). His float was surrounded by 49 angels, representing the victims of the Orlando tragedy. For the first time ever, a sitting prime minister marched in the parade, and happened to walk alongside a young gay Syrian refugee living with HIV, newly settled in Canada. As well, Black Lives Matter reminded us that the roots of the Pride parade was protest.

"A key takeaway for me this year was the diversity of the crowd. Colour, religion, age and sexuality were all represented beautifully and it was inspiring to see people from all walks of life come together in such a fun and supportive way. I sensed no fear, only joy and inclusivity." noted 30 Under Thirty member Jena Roy. She has marched in Pride many times, and this year won't be her last.
Authored by Andrea Zeelie-Varga