I think it's safe to say that most people don't look back on their summer jobs as students with fondness and joy, but working at CANFAR has not been the standard summer job.
It has unquestionably been the best summer job I've ever had, and I'm sure I'll never forget my CANFAR experience. I've had so many amazing experiences with CANFAR, and made so many new friends. From the very first day in the office I felt welcome. The staff here are all so kind and dedicated, and working with them has been such a pleasure.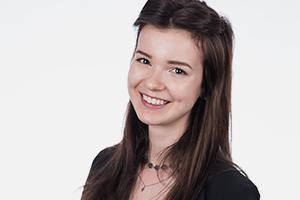 What other summer job would provide me with so many opportunities? First up was Dressed Up Disco, a 1970s themed party thrown by CANFAR's 30 Under Thirty, where I showed up clad in clashing colours and partied with drag queens early into the morning. Next was a reception for CANFAR's Scientific Advisory Committee. As an undergraduate science student at McGill, getting to chat with so many researchers whose work I admire was an amazing experience. I also gained a better understanding of the research process in general, and I even got to meet one of my own profs for next year! Most recently was Pride Parade (my first time marching!); I don't even know where to begin to describe how much fun I had. Decked out in CANFAR gear, we danced our way down Yonge Street as the crowd cheered us on.
I am so proud to have been a part of this organization. Working as Programs Assistant I helped review educational resources and gather information for CANFAR's One and All Classroom program. Specifically, we're working on putting together lesson plans that will be available for high school teachers to educate youth about HIV. Lesson content spans over many disciplines, covering topics in science, law, social sciences, and media arts, just to name a few. I've also helped to review materials provided to CANFAR's Campus Clubs. This year, clubs will be receiving a new and improved welcome booklet, along with loads of fun CANFAR swag such as buttons and beach balls.
I am sad to say goodbye as my CANFAR experience ends and I head back to school this fall, but I'll be bringing my CANFAR t-shirt along and wearing it with pride. The Foundation is doing really amazing work, and I'm so thankful to have been given the opportunity to be a part of that.
Authored by Rebecca Seliga