CANFAR is unwavering in its commitment and support of the LGBTQ community.
CANFAR has been marching in Toronto's PRIDE parade for almost two decades, as well as funding research dedicated to HIV prevention in gay men. CANFAR funded research has contributed to incredible progress, which has resulted in HIV no longer being seen as the "gay disease" with little chance of survival. Awareness and research in HIV and AIDS have changed the lives of millions of individuals around the world. Our achievements in funding impactful research will make you proud to support CANFAR.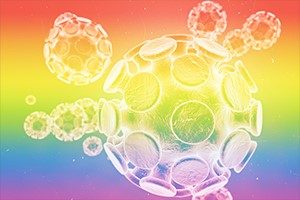 Thanks to research and advancements in treatment, people living with HIV are now living healthier, longer and more productive lives. But it is not the end, and we still need your help.
In Canada the number of people living with HIV is increasing, approximately twenty percent of HIV positive Canadians are unaware of their status. Currently, gay men in Canada are 71 times* more likely to contract HIV than any other group, and accordingly we will continue to fund research that addresses this sobering reality.
Your donation to CANFAR directly supports HIV and AIDS research. We can't stop now, and with your continued support, we will create our HIV-free future.
Authored by Nikita Chowdury
* PHAC (2014) "HIV and AIDS in Canada: Surveillance Report.", p 1