Openly gay MPs Seamus O'Regan, Scott Brison, and Randy Boissonnault joined dozens of others at the "Byward Social," an event organized by CANFAR Legacy Group Co-Chairs Michael Gennis and Jason Sordi. The event, at upscale clothing boutique Schad, located on Sussex Drive, encouraged people to practice "safe sox".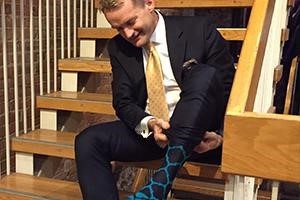 The timing for the event on November 16, 2016 couldn't have been more serendipitous. Earlier that morning, Boissonnault had been named special advisor to the Prime Minister on LGBTQ2 issues. The speakers for the evening, including Brison, President of the Treasury Board, spoke to Canada's progress on LGBTQ2 rights. However, gay, bisexual, and other men who have sex with men (MSM) remain at risk of HIV infection. It is estimated that 49% of the more than 75,000 Canadians living with HIV are MSM.
That's why O'Regan led the way in taking the Safe Sox challenge, donning limited-edition designer socks from Bustle Clothing creative director Shawn Hewson. In addition to raising awareness of HIV and AIDS with his Safe Sox challenge campaign, Hewson is donating proceeds from their sale to CANFAR.
The socks weren't the only unique fashion items on display for the evening. Schad co-owner Chantal Biro-Schad and Ottawa visual artist Heidi Conrod were a walking art gallery, wearing dresses designed by Montreal-based Art-A-Porter, showcasing Conrod's artwork.
Overall, the night was a great success, bringing together federal politicians and Ottawa-based supporters of CANFAR's mission to fight HIV and AIDS through research.