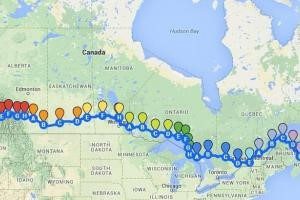 On May 9th, 2015, Chris Davidge, a student from Western University, and his three friends, will embark on a cross-country cycling trip in support of the Canadian Foundation for AIDS Research (CANFAR) to help in the fight against HIV and AIDS.
Cycle 4 CANFAR aims to engage Canadians and raise awareness of the issue, encouraging others to donate to CANFAR in support of Canadian HIV and AIDS research. There are 2.1 million new cases globally each year and 71,300 people living with HIV in Canada.
While in Africa on a post-high school trip, Chris was surprised and saddened to learn that 90 per cent of the children that he worked with while volunteering at local schools and orphanages were infected with HIV. The notion that many of these children would not live to see adulthood compelled him to act.
A hope to raise $10,000 for vital Canadian HIV and AIDS Research
When he returned home, Chris encouraged his friends to join him in cycling over 6,600km across Canada with the goal of raising $10,000 for HIV and AIDS research. His call was answered by three friends, who saw an opportunity to have a great adventure, while making a difference. The boys have dedicated their spare time all winter to training – a big feat since one didn't even own a bike when he agreed to the ride.
Through research, awareness and prevention education, HIV and AIDS comes closer to an end. As the only Canadian organization whose mission is to end HIV and AIDS through research, Chris decided to partner with CANFAR on his journey.  The organization requires critical funding to continue the research that will ultimately help find a cure.
The Cycle 4 CANFAR team will be visiting more than 32 cities and towns over 43 days, and stopping at select locations along the way to discuss their journey and this important initiative.

FOLLOW THEIR JOURNEY:
www.cycle4CANFAR.com


@cycle4CANFAR