In May, the Canadian Association of HIV Research (CAHR) hosted their annual conference in Winnipeg.
President and CEO, Christopher Bunting, and Manager of Research and Program Integration, Cameron Dunkin, attended the conference to meet with the field's leading researchers and learn about new research being conducted by Canadians.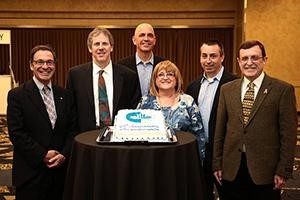 Dr. Michael Grant, CAHR President and CANFAR Scientific Advisory Committee Member, emphasized how much has changed over the past 25-year history of the conference. He writes, "On the research front, there have been many advances that have made inroads in tackling the disease – from insights into the biomedical complexities of the virus, to the development of advanced clinical approaches to treat HIV, to new and diverse strategies to reduce risks for individuals and communities."
With over 3000 new HIV infections in Canada each year, research remains essential. The CAHR Conference provides an opportunity for researchers to come together, collaborate, learn, and celebrate advancements CANFAR was proud to sponsor two plenary sessions and host a booth. Over 15 CANFAR funded researchers presented workshops or posters.
Authored by Cameron Dunkin