BSE Official After Party kicks off at 9:30pm on the eve of World AIDS Day
Performances by the "Queen of the North," Brooke Lynn Hytes, and Canadian dance sensation, Rêve
Toronto, October 5, 2022 – The "Queen of the North" will take the stage at Toronto's Four Seasons Hotel for the BSE Official After Party to this year's marquee Bloor Street Entertains, with returning Signature Partner BMO. Joining the host of Canada's Drag Race will be rising Canadian dance superstar, Rêve.
Brooke Lynn Hytes and dance music queen Rêve will put on a showstopping performance as part of this year's Bloor Street Entertains festivities, taking place November 30, 2022 – the eve of World AIDS Day. Over 800 guests will delight in energetic sets by these dynamic performers while raising critical funds to help CANFAR's mission to end HIV in Canada by 2025.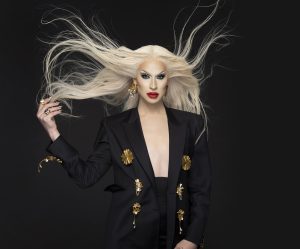 Brooke Lynn Hytes
Equal parts ballerina, showgirl, and 90's supermodel, Brooke Lynn Hytes is drag perfection – personified. A Toronto native, Brooke Lynn Hytes received her dance training at the National Ballet School of Canada and in 2008, she traveled worldwide performing as a principal ballerina with Les Ballets Trockadero de Monte Carlo – an all-male drag ballet company. Since then, she has taken the world by storm, winning the coveted Miss Continental crown in 2014, and in 2018 was cast as the first Canadian to appear on RuPaul's Drag Race. Throughout her time on the show, she became known for her polished runway looks and iconic lip sync performances on the main stage. Brooke Lynn finished as first runner-up of season eleven.
Hytes has since cemented her place in history as the first Queen from the franchise to host and judge a spinoff, 'Canada's Drag Race' – which is moving into its third season – and executive produce and star in her new show, 1 Queen 5 Queers – which is currently airing season two.
Rêve
Signed with 31 East / Universal Music Canada, Rêve first gained a following performing mashups with original lyrics on TikTok. In July 2021, her major-label debut single, "Still Dancing", was released on Astralwerks. Her second single, "Skin 2 Skin", was released in August 2021. Her single "Ctrl + Alt + Del" was released on September 19, 2021, and was produced by Banx & Ranx, who also co-wrote the song with her. "Ctrl + Alt + Del" charted on the Canadian Hot 100 for 29 weeks, peaking at number 38. It is also featured in the video game FIFA 22, and was certified gold in Canada. Rêve hopes to release her first full-length album in 2022.
Bloor Street Entertains
Bloor Street Entertains, or BSE, is CANFAR's largest annual HIV/AIDS fundraiser and has won the National Award for the Best Event of a High Profile Charity from Canadian Special Events Magazine. Each year, guests dine at some of Bloor Street's most storied and luxurious retailers with meals crafted by the city's top chefs and atmospheres created by our incredible floral and décor partners. The official after party kicks off at 10pm at the Four Seasons Hotel and features our jaw-dropping silent auction, amazing entertainment and inspiring fashion.
Limited tickets for this year's After Party are on sale now for $200. Click here to buy your tickets now.
ABOUT CANFAR
CANFAR's mission is to end the HIV epidemic in Canada by funding innovative research, and awareness programs focused on increasing prevention, increasing testing, improving treatment and care, and ending HIV stigma. Over its 30-year history, CANFAR has invested more than $24 million and awarded more than 500 grants across Canada in research addressing all aspects of HIV and AIDS. Visit canfar.com to learn more and donate to the Bloor Street Entertains Campaign.
For more information:
Bria Weaver
The Brand is Female
+ 1.647.686.4568
bria@thebrandisfemale.com