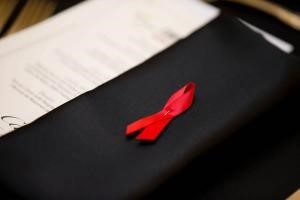 Press Release: SCOTIABANK PRESIDENT AND CEO LEADS CANADA'S BIGGEST FUNDRAISER SUPPORTING HIV AND AIDS RESEARCH
Toronto, 27 October 2014 – Andrew Pringle, Chair of the Canadian Foundation for AIDS Research (CANFAR) is pleased to announce that Scotiabank President and CEO Brian and Megan Porter have graciously agreed to co-chair CANFAR's annual Bloor Street Entertains gala on 25 November 2014.
"Scotiabank's support of the HIV and AIDS cause is well known and has been long established through a number of awareness and fundraising events across Canada," said Mr. Pringle. "We are honoured to have Brian and Megan Porter's support for CANFAR, and this important event which enables us to fund new research and education initiatives."
"Too many of us in Canada have become complacent about HIV and AIDS," commented Brian Porter. "A Canadian becomes infected with HIV every few hours and there are 35 million people globally who are HIV positive. We want to underscore the ongoing need for more research so we can leave an AIDS-free world to the next generation."
"CANFAR's Bloor Street Entertains is a wonderful example of an entire community – businesses, cultural institutions, retailers and restaurateurs – coming together to support one single cause," added Megan Porter. "It's a memorable experience to work with all these different people and organizations that share a common objective and passion – to bring an end to HIV and AIDS!"
CANFAR's Bloor Street Entertains began in 1996 and the event has become the country's biggest fundraiser supporting HIV and AIDS research and education. More than 20 shops and galleries along Toronto's prestigious Bloor-Yorkville corridor will close for an evening to become exclusive dining rooms hosting the ultimate in fine dining. Venues are paired with Toronto's leading chefs and florists to provide patrons with an unforgettably exquisite experience. The evening wraps up with an extravagant after-party at the Royal Ontario Museum featuring an array of exciting auction items and some of the most outstanding entertainment Toronto has to offer. With hundreds of volunteers and generous donations from chefs, florists and venue partners, CANFAR is able to maximize the amount of money that goes directly to support research and education.
For further information:
Kate Simandl
Corporate Communications
Scotiabank
416 866 6218/Email
Stephanie Rullo
Manager, Communications and Marketing
416 361 6281/Email
ABOUT CANFAR'S BLOOR STREET ENTERTAINS
Bloor Street Entertains is the flagship gala event of the Canadian Foundation for AIDS Research (CANFAR). One of the Toronto's best-known events, Bloor Street Entertains transforms the boutiques, museums and galleries along Bloor-Yorkville, into unique and exclusive dining experiences. Patrons are treated to dinners prepared by the city's finest chefs, who take their guests on a multiple-course culinary journey of sensuous taste and texture. The evening culminates with a glamorous gala party.
Bloor Street Entertains traces its roots to the very founding of CANFAR. Its first incarnation was Food for Thought, an event produced shortly after CANFAR was incorporated in 1988. In its first year, Food for Thought raised $150,000 for HIV and AIDS research, with 200 diners in attendance.
Today, Bloor Street Entertains attracts more than 850 attendees at more than 20 venues across Bloor-Yorkville and has blossomed into an award-winning gala that is an annual highlight of Toronto's social calendar. Having raised almost $5 million since inception, Bloor Street Entertains has become the single most important event in Canada that supports HIV and AIDS research.
Bloor Street Entertains 2014 Lead Sponsors:
Presenting Sponsor: Sun Life Financial
Cure Sponsor: BMO Financial Group
Illumination Sponsors: Scotiabank, Cineplex, Labatt
ABOUT CANFAR
Founded in 1987, the Canadian Foundation for AIDS Research (CANFAR) raises awareness to generate funds for research into all aspects of HIV and AIDS. CANFAR is the only organization in Canada that operates for the sole purpose of privately funding HIV and AIDS research, and finances AIDS researchers throughout Canada.
ABOUT SCOTIABANK
Scotiabank is a leading financial services provider in over 55 countries and Canada's most international bank. Through Bright Future, our global philanthropic program, Scotiabank and its employees support causes at a grassroots level across six pillars: health, education, social services, arts and culture, environment and sports. Recognized as a leader for our charitable donations and philanthropic activities, Scotiabank has contributed on average some $50 million annually over the last five years to community causes around the world.